2009 new & main features:
- Based on the ultra successful T2'008 platform, fine tuned for highest competition racing on rubber & foam tires
- LiPo pack ready with the use of unique graphite pads that raise the top deck to fit popular-sized LiPo battery packs
- New super-light Swiss 7075 T6 aluminum rear drive shafts, hard anodized, black coated and laser engraved, 38% lighter than standard drive shafts
- New super-light drive axles with 35% less rotating mass
- Drivetrain featuring 34T/20T pulleys on both EU and US versions
- Limited edition orange coloring on aluminum parts for stylish and distinctive look. Warning, the blazing orange color will not improve lap times.
- Dozens of ultra-fine improvements particularly on tolerances, clearances, and material structures
- Most parts are fully compatible with the T2'008
- Available in two versions to meet specific ROAR, EFRA, and FEMCA regulations:
- US Foam-spec 6-cell Edition (#30 00014) – ROAR
- EU Rubber-spec 6-cell Edition (#30 0013) – ROAR, EFRA, FEMCA
- Battery slots on chassis moved slightly outwards for better clearance between batteries and spur gear
- EU Edition available with 6-cell chassis which allows fitting of both 5- and 6-cell battery configurations
- EU Edition features narrow, ultra-thin 2.0mm top deck for higher grip
- Reduced sensitivity to changing track conditions, giving super-consistent performance during runs
- Lowered battery backstops for better fit and clearance between soldering tabs
- Both EU & US Editions come with Swiss 7075 T6 aluminum ball differential
- Centrally-positioned layshaft and split bulkheads provide optimum balance thanks to perfect weight distribution of the motor towards centerline, giving quicker left-right transitions
- Ultra-light bulkheads CNC-machined from premium Swiss 7075 T6 aluminum
- Motor mount bulkhead features the lowest possible motor mount, compatible with stock, modified, and brushless motors
- Super-light composite front Solid Axle with XRAY's own smart quick-change outdrive system for easy outdrive exchange (EU Edition only); no servicing or replacement of drive shaft blades needed, translates into reduced servicing costs
- Specially-optimized drive shaft lengths for specific foam- and rubber-tire racing conditions:
- US Edition: standard 50mm CVD drive shafts for use with foam tires (generally higher traction than rubber tires); optimum transfer of traction to the wheels
- EU Edition: longer 52mm front/rear CVD drive shafts positioned more towards centerline in diff/solid axle outdrives to generate more overall traction and make the car easier to drive on low-traction tracks
- Servo saver positioned in absolute centerline of the chassis
- Aluminum center top deck mount specially designed for rubber tires on carpet –decreases front suspension traction and eliminates front tire overheating, ensuring consistent handling during runs
- Front bulkheads with extra reinforcement legs allow for additional chassis flex adjustment from the bottom of the chassis
- Independent front and rear diff height adjustment
- Long front & rear suspension arms for improved traction and easier handling feature optimized shock mounting positions for improving steering and traction
- Suspension arms feature integrated anti-roll bar mounts; rear arms feature two different anti-roll bar mounts for super-fine adjustment of the rear anti-roll bar
- EU Edition includes both front and rear anti-roll bars (front 1.6mm & rear 1.4mm)
- C-hubs with large openings for quicker and easier assembly/disassembly of the CVDs; prevents collision of CVD with C-hub in serious crashes (compatible for the ECS drive shafts)
- C-hubs available in standard caster angles (2°, 4° and 6°); available in two hardnesses (EU – medium, US – hard)
- Rear uprights with integrated 0° toe-in to prevent suspension geometry change in serious crashes; available in two hardnesses (EU – medium, US – hard)
- Steering blocks available in two hardness (EU – medium, US - hard)
- Front suspension arms allow 2mm adjustment of front arm position
- Both front & rear shock towers machined from premium graphite material featuring Quick Roll Center positions and optimized shock absorber positions
- Front shock tower specially machined for ultra-low weight without compromising strength
- Lightweight middle alu layshaft with centrally-positioned spur gear for perfect balance
- Ready and optimized for brushless motor systems
- Ready and optimized for most LiPo battery packs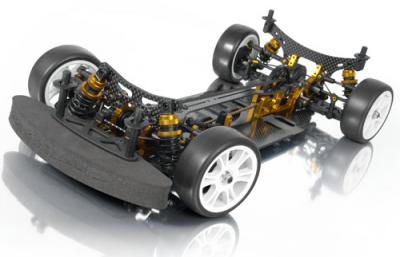 T2'009 EU Rubber-spec Edition - Extra Features:
- EU Rubber-Spec Edition (#30 0013) specially designed for rubber-tire racing
- 2.5mm flexible chassis for 6-cell batteries
- Narrow top deck machined from ultra-thin 2.0mm graphite for improved traction
- Hard rubber-spec front and rear suspension arms – marked with "H"
- Medium rubber-spec steering blocks, C-hubs, and rear uprights
- XRAY Composite Front Solid Axle
- Super-smooth adjustable Swiss 7075 T6 rear ball-differential with XRAY Labyrinth Dust Covers™
- Longer 52mm HUDY Spring Steel™ CVD drive shafts in front, 52mm Swiss 7075 T6 aluminum drive shafts in rear
- 34T front and rear pulleys, 20T center layshaft pulleys
- C2.6 and C2.8 racing springs
- 84T 48P spur gear – extra-hard material, wobble-free design
- 1.2mm front and rear anti-roll bars
- EFRA, ROAR, FEMCA spec compliant for modified and stock racing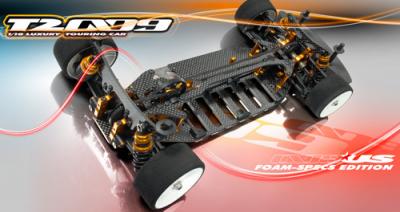 T2'009 Foam-spec Edition - Extra Features:
- US Foam-Spec Edition (#30 0014) specially designed for foam-tire racing
- 3.5mm ultra-thick solid 6-cell chassis with milled areas allows all parts to be mounted ultra-low
- Wide top deck mounted to chassis via aluminum standoffs provides wide, ultra-stable, solid platform. Top deck features Multi-Flex -Technology™ flex points for adjustment of flex and torsion settings from stiff to ultra-stiff.
- Extra-Hard foam-spec front and rear suspension arms – marked with "XH"
- Hard foam-spec steering blocks, C-hubs, and rear uprights
- Super-smooth adjustable Swiss 7075 T6 aluminum front and rear ball-differentials with XRAY Labyrinth Dust Covers™
- Standard-length 50mm HUDY Spring Steel™ CVD drive shafts in front, 50mm Swiss 7075 T6 aluminum drive shafts in rear
- 34T front and rear diff pulleys, 20T center layshaft pulleys
- Light purple and white springs
- 116T 64P spur gear – extra-hard material, wobble-free design
- 1.4mm front anti-roll bar included
- ROAR spec compliant for modified and stock racing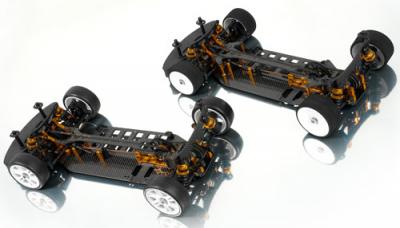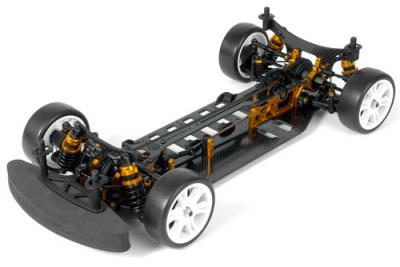 Source: Xray[url=teamxray.com]teamxray.com[/url]